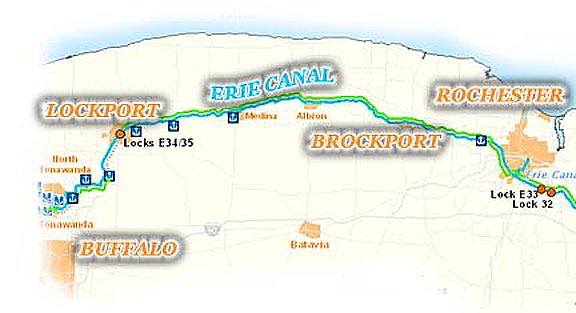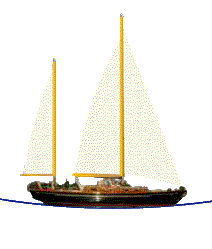 Ships Log Canal Prep September 6, 2005
Leaving Erie Basin at dawn, we made our way down the Niagara River, stopping at Rich's Marine Sales. There, the yard crane lifted our masts and placed them on a truck. We chose to truck the masts to the Hudson, rather than carry them on our deck because they are wooden and very heavy. In addition, the main mast extends 17 feet beyond the ends of the boat and could present a hazard in the locks. After a few locks watching other boats joust with their masts, we were very glad of that decision. We hired Rich's staff to help remove our Raymarine radar unit because we had not done this before. Unfortunately, he said "whoops" and dropped it, ripping all the wiring out before we could clearly identify which wire goes where. This will make it difficult to re-attach the unit at the other end of the canal. Luckily, we photographed the wiring at the mast base before we disconnected it, so we will be able to correctly reconnect that portion of the puzzle. Here, we also experienced our first mechanical problem. The transmission failed. After our experience with the radar, we decided to fix it ourselves. We started with the simplest system, the control linkage from the cockpit. Luckily, that was where the problem was and it was easily repaired.
In the evening, we accepted the invitation of Mario and Maria of the M&M powerboat for a few glasses of wine. Mario makes his own wine aboard and it is absolutely excellent. They were very knowledgeable about the Erie Canal and points south since they have one boat here and a trawler in Marathon, Florida.
They were so nice and welcomed us warmly after a trying day in the marina. In addition to helpful canal tips, we learned a great deal of the history of Buffalo. For example, Grover Cleveland is buried beneath the rotunda of the federal building.
Lighthouse photos through out our site are of ones we passed and relied on for safe navigation.