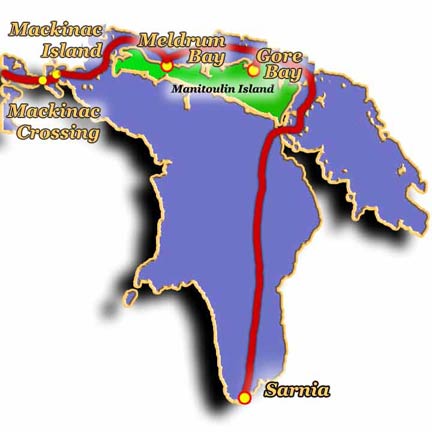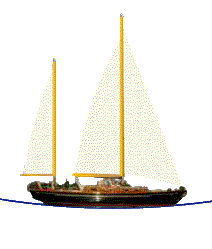 We made it to Sarnia.
Environment Canada predicted clear skies and fair winds, so we sailed out of Kincardine at dawn. Our destination was Bayfield Ontario.
Bayfield was founded in 1832 by the Dutch nobleman Carel Lodewijk Baron Tuyll van Serooskerken, who established grist and lumbermills. Luckily, the village was named for the nautical surveyor Henry Wolsey Bayfield.
Mike fondly remembered Bayfield as a quiet and quaint little village. He spent several summers here 35 years ago visiting his friends Blaire and Aud Bender, who owned the Red Pump Inn. It was the perfect little Inn with a very few tables and additional seating in the front yard when weather permitted. In that yard was also located the famous Red Pump.
Well, all things change. Blaire and Aud are gone and the new owners of the Inn have "improved" it to the extent of removing the old building and replacing it with a much larger one "built along the same lines". The front yard was replaced by a gift shop, and the red pump has been moved next to the sidewalk. The village is busier now and many of the old brick buildings remain.
We left Bayfield while the stars still covered the skies, followed out the river by a commercial net fishing boat. We were alone sailing on the dark lake. The day's sail to the industrial city of Sarnia at the bottom of Lake Huron is to be our last for a while. We entered the St. Clair River and will travel to Winsor - Detroit tomorrow.
Lighthouse photos through out our site are of ones we passed and relied on for safe navigation.