Sturgeon Bay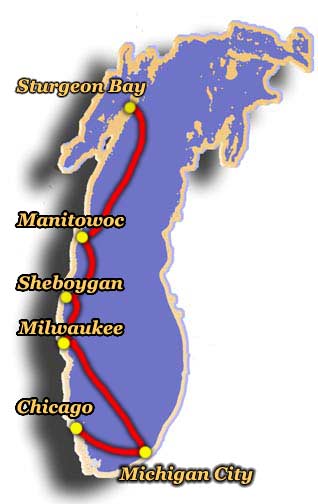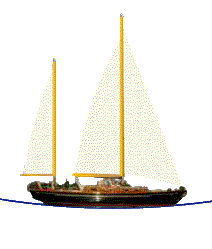 Ships Log July 29, 2005
The Sturgeon Bay area was orginally the home of Native American tribes such as the Menominee, Winnabago and Outagamie. Maritime commerce started with the French fur traders. The first permanent settler of Door County was Increase Clafiln who built his cabin on the current site of Peninsula State Park (Peninsula State Park--Summer Map)in 1830. He was followed by German, Scandnavian and Irish pioneers. The Canal joining green Bay, through Sturgeon Bay to Lake Michigan was started in 1872 and completed in 1880. The funds for the lighthouse were appropriated by Congress in 1881. Lumber from Wisconsin's forests was ferried to market by hundreds of tall sailing ships.
We sailed out of Quarterdeck Marina at 9:30 am. We hailed the Sturgeon Bay Michigan Avenue (west) Bridge and found that they open on the hour. Our old chart stated that both bridges opened on the hour and half hour. In fact, the east bridge now opens on demand and the west bridge on the hour only. At 10:00 we were on our way. We passed the ship building facilities and the classic yards of Palmer Johnson and Great Lakes Yacht Services. Sturgeon Bay has been a major ship building port since the days of wooden craft through the steel ships of the World Wars to modern freighters and Palmer Johnson's beautiful aluminum yachts. We also passed the large Coast Guard ship and numerous tugs at the Door County Maritime Museum. Sturgeon Bay is officially in Door County, and it is located in the middle of the narrow channel dividing Door County from the rest of Wisconsin. However, since it is industrial, we didn't feel as if we were in "Door County" until entering Green Bay. We entered Green Bay and headed north into a brisk breeze. We tacked back and forth for a few hours before resorting to motorsailing the rest of the way to Fish Creek. We often find ourselves needing to travel directly into the wind. We anchored in Fish Creek in mid afternoon and finally felt that we had arrived in Door County! It was soooo beautiful!
Lighthouse photos through out our site are of ones we passed and relied on for safe navigation.
v